Snoek, M., Enthoven, M., Kessels, J., & Volman, M. (2017). Increasing the impact of a Master's programme on teacher leadership and school development by means of boundary crossing, International Journal of Leadership in Education, 20(1), 26-56.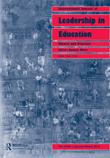 In this case study, we investigate how the development and impact of teacher leadership through a Master's programme can be supported by a design that encourages boundary crossing activities between schools and universities. The case study focuses on 42 experienced teachers from three vocational colleges who were promoted to senior teacher positions and participated in a Master's programme. Through individual and focus group interviews, data were collected on how boundary crossing activities can connect professional development and school development, and on favourable conditions for effective boundary crossing. The study shows that strategic alignment and shared ownership
between university and school, a collective approach with multiple participants from one school, and the use of boundary objects, created the conditions through which the Master's programme could serve as a catalyst, stimulating innovation of work practices and development of new leadership practices. The leadership of the senior teachers initiated a development process that shifted from formally manDatumd forms of leadership to more culturally embedded forms of leadership. This case study leads to a new understanding of design criteria for Master's programmes and boundary objects that can support the process of developing teacher leadership within schools by facilitating boundary crossing between university and school.
Klick here for the hardcopy version which is published 2017, vol 20, issue 1, page 26-56